Full Moon Parties in 2019
The first full moon party of 2019 is scheduled on 31 January 2019 on Koh Phangan. Koh Phangan is a charming and special place, known the world over, for being the island where you can live out your dreams on the white sand beaches, flanked by palm trees and have a rocking party all night long once a month.
Full Moon Parties are when Koh Phangan comes to life and is filled with ravers and partygoers from all over Thailand and the world. Its known as one of the biggest beach bashes and with at least 3000 people dancing in unity, you can be sure to have a good time.
Had Rin Beach is where the parties happen and the beach is lined up with 12 major audio systems to play the best beach beats ranging from tropical house to island r&b. The beach is lined with stretches of clubs and beachside bars offering partygoers affordable buckets of alcohol. If you're lucky and visit during the peak season, you might get to see a world famous DJ spinning for a set or two.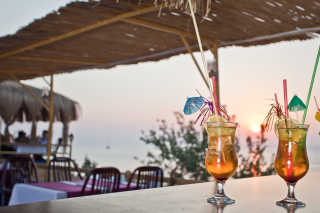 How to get to Koh Phangan?
Getting to Koh Phangan is either by plane or by boat. You can take flights to Koh Samui from either Bangkok, Phuket, Pattaya or Singapore. From the airport, you can take a ferry to Koh Phangan. The ferry ride will take 30 minutes. Koh Phangan
Before we dive deeper into which islands to visit, keep in mind these three important factors: weather and time for day trips.
The worst enemy of a perfect island getaway is rain. Plan your trip around the rainy seasons, so you don't end up having to stay indoors during your holiday and lose the deposit on the day-trip.
Next, while you're in Thailand, you'll be wanting to see as much as possible. You'll need to consider how much time you have and how much time you need to get around via buses as there will be traffic going to and from your day trip destination of choice.
Full Moon Party Schedule
The party schedule is determined by the cycle of the Moon. There are half moon and full moon parties and even black moon parties. But, the full moon parties are the most epic and the ones to go for, especially if you are a tourist. Plan your trip around these dates so you'll be able to enjoy your beach party vacation to the maximum pleasure.
2019:
2 Jan 2019,Tue, 20:00
31 Jan 2019, Wed, 20:00
2 Mar 2019, Fri, 20:00
31 Mar 2019, Sat, 20:00
29 Apr 2019, Sun, 20:00
30 May 2019, Wed, 20:00
27 Jun 2019, Wed, 20:00
29 Jul 2019, Sun, 20:00
26 Aug 2019, Sun, 20:00
24 Sep 2019, Mon, 20:00
25 Oct 2019, Thu, 20:00
22 Nov 2019, Thu, 20:00
22 Dec 2019, Sat, 20:00
Where to Stay?
The most popular resorts on the island can be rather pricey, such as Panviman Resort and Anatara Rasananda Villas as these are the most luxurious and offer the best experience.
Another resort stay that is more affordable is Buri Rasa Koh Phangan. Regardless of where you choose to stay, Koh Phangan is an amazing holiday destination with many things to offer its visitors. Some tourists decide to live here after a week because of the magical vibes.
Each of the specified areas on the island is suitable for a different types of visitor and tourist. During the 3 days of the full moon party, the entire island transforms into a chaotic and hedonistic destination.
The common places to stay are along Haad Rin beach as this is the main venue of the parties and with the highest density of bars, clubs and restaurants. This is the southern tip of the island so the views of sunset are amazing.
The city area is known as Thong Sala and here you'll find many locals and food offerings here from the night market. If you wish to experience island living which is simpler and no-frills experience, you can try staying towards the north west. The atmosphere is more remote and beaches have white sandy stretches. The vibe here is much more chill than Haad Rin.
Things to Do
If you're in search of things to do apart from party, look no further. If you're looking for good food at a great price, visit Thong Sala Night Market. It's something special and you'll find fresh seafood on offer as well. If you're looking for nature shots, head to Herbal Sauna Baan Thai, which is located near the biggest tree on the island and offers free massages (tips for donations). The best time to go is between 2pm to 7pm daily.
If you prefer to watch the sunset, head over to watch the Sunset at Amsterdam Bar, where there is no dress code, so you can chill in your bikini while sipping a cocktail in the swimming pool.
Another superb place to visit for beach lovers is at Mae Haat Beach, this is a very special beach because this is where the 2 currents meet and you can see two shades of water and you'll be able to walk on water during low tide. This beach is located on the north side of the island, which is much quieter.
Another beach which features emerald water is Chaloklum beach, which is hidden and doesn't have many tourists. Chill here to enjoy a peaceful moment with soft sand and warm water.
If you wish to be educated in the ways of Thai cuisine, take a cooking class and learn how to cook your favorite Thai dishes, like Som Tam and Paad Thai and Tom Yung Kung. The spot to learn is C&M Study Centre and you'll learn to cook 5 dishes in a short time.
Take a boat trip
If you want to see more of Koh Phangan, take a boat trip, which starts early in the morning. There is breakfast provided on the boat and a full day of adventure awaits you. There is hiking on an island, snorkeling at some spots, kayaking tour and finally a sunset watching experience before you get dropped off at your hotel or bungalow.