Guide To Best Bars In Singapore
Guide to the best bars in Singapore
Singapore is well known to be a culinary paradise, full of wonders for locals and tourists alike. In fact, Singapore's bar scene is highly ranked as one of the world's best. Over the past few years, the bar scene has improved in leaps and bounds to achieve world class status. If you only have a few days in Singapore, then choosing the right bar is absolutely critical to having a great time!
Of course, Singapore is famous for its shopping malls and hawker centres, but our guide will focus on the very best bars for you to drink at. You can find the bar that is perfect for you, ranging from private cocktail bars, to hotel lounges, to craft beer spots, to single malt whisky establishments.
Bangkok is the world's most-visited city and with just a short ride out of town, you can visit these five places on our list which are the best day trip suggestions just outside of Bangkok. You can experience a island getaway, a floating market for a shopping experience of a lifetime and even a zoo and a theme park.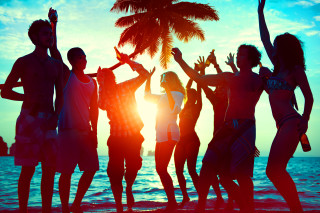 How to pick the right bar for yourself?
The first question many first time travellers to Singapore will face is: "Which bar should I go in Singapore?" With more than a hundred bars to choose from, this choice can be a very difficult one. But it shouldn't be. Budget Air has developed a simple guide to help you decide. We will help you pick the perfect bar that is just right for you!
Be prepared to follow a dress code when you head to bars in Singapore. Most bars and clubs have a smart casual dress code so a polo tee and jeans would do just fine. Fancier cocktail bars ask patrons dress in smarter wear like a formal shirt or business pants for guys and cocktail dresses for ladies.
Next, pick the right ambience for your spot. There are romantic bars if you're there with a lover. Or perhaps you prefer a more club-like atmosphere if you want something more happening with a DJ or a live band. Lastly, pick a bar based on the type of alcohol you wish to drink. The options are endless but if you prefer a specialty drink, then we'll be suggesting some great bars for that.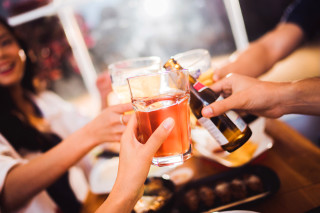 Search flights to Singapore>>
Whisky Bars
We'll start off our guide with the most premium bars in Singapore: Premium Single Malt Whisky Bars. A few years ago, these were not as popular, but with the rise of expats and alcohol tourists in Singapore, these have become a great place to meet like minded individuals who enjoy the finer things in life.
One of the most popular whisky bars in Singapore is La Maison Du Whisky. This bar is located along the Robertson Quay stretch and is popular for their wide range of premium single malts, imported from Scotland and Japan. La Maison Du Whisky is popular with locals, expats and gaining greater traction with tourists as well. This is one place not to miss! They even have a retail section for you to bring a bottle or two home to Australia. The mood here is formal but relaxed so it's a great place to meet fellow whisky aficionados.
If you prefer a bar that has a connected smoking lounge and with Cuban cigars on sale, then you should check out Quaich Bar at Havelock Road. They serve whisky by the glass, but if you're with a group of friends, it's more affordable if you choose a bottle to share. You can either store the remainder for another day or take it back with you. You're likely to enjoy it so much that there won't be much left anyway. You can also order bar snacks and nibbles to go with your whisky. Their staff are highly trained to recommend the whisky that is right for you.
Rounding up this list is the Auld Alliance which is within the complex of Rendezvous Hotel. This is often the whisky bar of choice for the whisky loving couple, as its atmosphere is quieter than most other establishments. The bar is set up like a library and it serves up one of the largest ranges of whiskies in Singapore. They can customize sampling flights for you to enjoy or you may choose to have a glass of a vintage whisky. They even have some whiskies from the World War 2 era. This is the spot where the wealthiest whisky drinks has his or her nightcap.
Search flights to Singapore>>
Cocktail Bars
The first cocktail bar on this list is an absolute must-visit, especially if you're looking for an award winning bar: 28 Hong Kong Street. The name of the bar represents the address of the bar so it's not hard to find. Don't be fooled by its simple name or the fact that the bar has no signage, this bar is one of the hardest to get a table at. Always reserve a spot before you visit! It's a stylish and social place and makes a great place to start off your night. They have a wide range of customized cocktails for those who want a one-of-a-kind drinking experience. They will ask for your preference of base alcohol to build the cocktail that you're sure to enjoy.
Another top cocktail bar in Singapore is Manhattan Bar at The Regent Hotel. Rated No.1 on Asia's Top 50 bars in 2017, this is one spot for well-dressed cocktail lovers and those who crave a specialty cocktail experience to remember for life. Manhattan's interior is nostalgic and covered in wood and leather creating a prime ambience. Inspired by New York's cocktail scene, every cocktail here is created with equal portions of style and substance. They have created a specialty menu, that is found nowhere else, so you won't forget a night at the Manhattan.
The last cocktail bar on our list, is Atlas. You'll be forgiven if you thought it was the name of a hotel. Don't be mistaken, it's an award winning cocktail bar drenched in Great Gatsby era style furnishings and a 3 story Gin fridge. Enjoy your decadent drink in the company of gold, velvet and copper that is highly instagrammable. Atlas has the proud honor of having the world's widest Gin collection(1011 at last count) and they customize their gin cocktails. You have to try the house special Atlas Martini, it's strong and satisfying! For those who prefer something sweeter and bubbly, their Champagne selection is one of the best in the region as well.
Search flights to Singapore>>
Live Music Clubs
If live music is your thing, one of the best places to party is Wala Wala at Holland Village. With live bands scheduled everyday of the week, this is a music lover's paradise. Most of the bands here play a blend of Top 40s and Rock & Roll, so you're sure to have a good time. If you want to see this place packed full, then head over on a Thursday, Friday or Saturday night, when you'll get to see either Reverie or Shirlyn & the UnXpected playing to a rocking crowd. Drinks here are relatively inexpensive, so you'll be able to spend the entire night there without burning a large hole in your pocket
If you prefer something a little more chill and relaxed, then head to Timbre at the Substation. Many popular local bands get their first gigs here before moving onto the recording studio. Wednesday night is open mic night so if you want to jam with the band on stage, you're welcome to join them and channel your inner rockstar!
Clubs
If clubbing along to the beats of a Deejay spinning is your things then you'll find that clubs in Singapore have much to offer you. Bottles of these clubs don't come cheap, but you'll be able to get a table for you and your friends to get your groove on, or you could pay cover and hang out on the dancefloor.
Zouk is the name of the hottest club in Singapore. Located in Clarke Quay, this is where the party crowd comes to be seen. It's one of the longest running clubs in Singapore with a huge following of locals and tourists alike. No partygoer should come to Singapore and miss a night-out at Zouk. You'll often see guest DJs spin here and get the crowd raving to sick EDM beats. This is a megaclub with different zones for different sub-genres of music for every crowd.
Rounding out our list of top places for a night out in Singapore, is Bang Bang. This is a club for the ballers and big spenders, with champagne trains being the name of the game to be spotted. This is one club that is open till late (6am) and is popping from midnight all the way till closing. Bang Bang is the place to spot celebrities and well-dressed party goers so dress to impress. Even if you start your night elsewhere on this list, this is a great spot to end your Singaporean party adventure on a high!
Apart from the evolving night and drink scene, Thailand has much more to offer. Find your cheapest flight or read more about the city on Budgetair.com.au.