Most Colourful Places In The World
50 most colourful places in the world
Every place you visit is colourful in its own unique way. However, there are some destinations that make themselves hard to forget through their picturesque hues, shades and tones. Which ones have left a mark on you? And which ones do you plan on visiting next?
Check out the following list of carefully selected colourful places, either manmade or natural, that you must visit at least once in your life.
1. Cinque Terre, Italy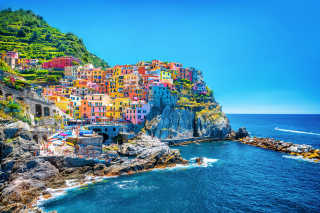 The five fishing communities of the Cinque Terre are the most iconic spot of the Italian Riviera.
2. Five Flower Lake, Jiuzhaigou Valley, China
The Five Flower Lake is a shallow multi-colored lake whose bottom is crisscrossed by ancient fallen tree trunks.
3. Brighton Beach, Melbourne, Australia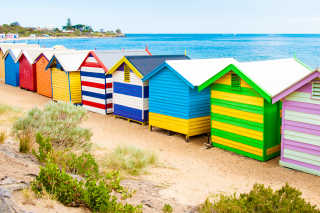 Apart from having crystal clear water, Brighton Beach is famous for its brightly colourful beach huts.
4. Mendenhall Ice Caves, Juneau, Alaska
Breathtakingly blue walls shimmer in the "Glacier Behind the Town" and "Glacier Behind the Little Lake".
5. Palais Des Congres, Montreal, Canada
This remarkable piece of architecture has a multicoloured façade, which has been added relatively recently. When the sun shines, every bit of architecture is bathed in colours.
6. Blue Lagoon, Iceland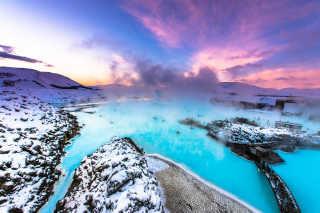 The geothermal spa is one of the most visited attractions in Iceland, located in a lava field, half hour away from the airport.
7. Tulip fields, the Netherlands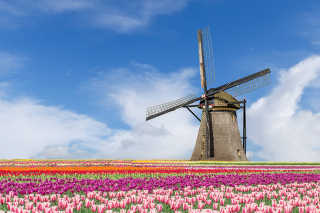 The striking colors of the flowering tulip bulbs are a typical sight in Holland during the spring, and are a must see/ must experience.
8. Rue Targui, Chefchaouen, Morocco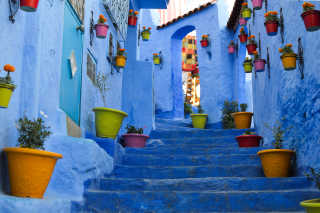 Chefchaouen (often abbreviated as "Chaouen") has narrow Chaouen-blue pedestrian streets, offering breathtaking views of the lush valley below.
9. Lavender fields, France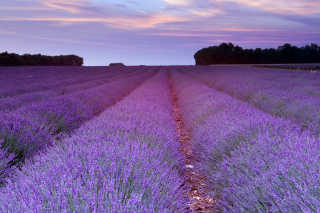 The lavender fields, in full bloom from June to August, are the soul of Provence and create an amazing atmosphere with their beautiful scenery.
10. Marble Caves, Chile
These stunningly beautiful caves show that Mother Nature has outdone herself. The azure water of the lake reflects on the cavern walls, putting on a spectacle.
11. Tunnel Of Love, Klevan, Ukraine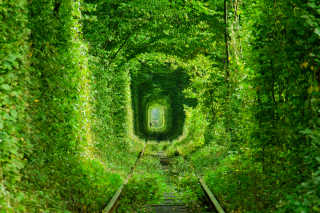 The leafy green train tunnel is on the list of the most romantic places in the world.
12. Salar De Uyuni, Bolivia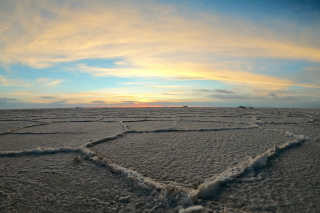 A thin layer of water transforms Bolivia's Salar de Uyuni into a striking reflective canvas, incredibly white during the day, with spectacular pink hues at sunset.
13. Rua Luis de Camōes, Águeda, Portugal
Hundred of colourful umbrellas cover this street during the hot summer days, casting a playful array of shadows on the street below.
14. Fly Geyser, Northern Nevada
A collision of human error and natural geothermal pressure created this rainbow-colored geologic wonder.
15. Daigo-ji Temple, Kyoto, Japan
A National Treasure of Japan, the temple is beautiful in all four seasons, although autumn brings a vivid red colour from the maple leaves.
16. Dallol, Ethiopia
One of the hottest places in a world has some visually striking hot springs, with vibrant cyan pools. Are you brave enough to endure the climate and see the incredibly vibrant tones?
17. Caño Cristales River, Colombia
The River of Five Colours, it is the most spectacular natural wonder in Colombia.
18. Bo-Kaap, Cape Town, Africa
One of the most photographed place in Cape Town, Bo Kaap has brightly coloured painted houses and quaint cobbled streets.
19. Lake Retba, Senegal
The natural pink lake (Lac Rose) in Senegal is an incredible sight. The pink hue comes from the micro algae living in the perfect conditions caused by the water's high salt content.
20. Canola Flower Fields, Yunnan, China
This quiet area of Yunnan County annually transforms into an unbelievable sea of yellow flowers during the months of February and March.
21. Santorini, Greece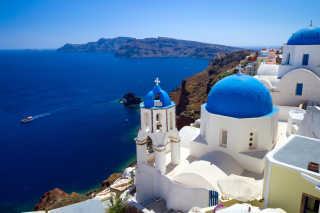 One of the most popular islands in the world, Santorini combines beautiful beaches with spectacular scenery and ancient cities.
22. Morning Glory Pool, Yellowstone National Park
The beautiful geyser has bright bands of orange, yellow, and a green ring around the deep blue waters.
23. Rio Tinto, Spain
The river is tinted red from 5,000 years of mining and is considered the birthplace of the Copper Age and Bronze Age.
24. Copenhagen, Denmark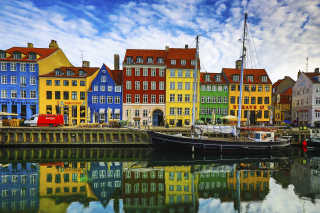 The capital city of Denmark has many colourful streets, and one of the most popular one is Nyhavn, lined with brightly coloured buildings.
25. Crystal Caves, Iceland
Sometimes called Crystal Caves, the ice caves in Icelandic glaciers are a truly mesmerizing wonder of nature.
26. Binalong Bay, Bay Of Fires, Tasmania
The coastal landscape features orange lichen-coloured boulders, breathtakingly white beaches and turquoise-coloured ocean breaks.
27. Panjin Red Beach, China
This beach transforms into a crimson red during the autumn months, the source of breath-taking photographs.
28. Northern Lights of Tromsø, Norway
Tromsø offers one of the highest probabilities to experience the northern lights, a magical phenomenon you must tick off your bucket list.
29. Wroclaw, Poland
This idyllic city has its own unique architecture, which can be observed in the magnificent Market Square, surrounded by 16th century painted houses.
30. Death Valley During a Super Bloom, California
Death Valley is a beautiful place to visit during the entire year, but if you want to see yourself the colourful carpet of wildflowers, go during a "Super Bloom".
31. Wisteria Tunnel, Japan
The magical tunnel is in full bloom during the months of April and May, creating a pastel-coloured passageway of wisteria flowers.
32. Kampung Pelangi, Indonesia
Indonesia's rainbow painted village looks like a candy-colour waterland, attracting people from all over the world to photograph it.
33. Great Barrier Reef, Australia
This Natural Wonder will redefine your idea of paradise, with an abundance of marine life, coral cays and picturesque tropical islands.
34. Isla Mujeres, Mexico
This lovely little island off the coast of Cancun has many cute colourful house, good for admiring and photographing.
35. Trinidad, Cuba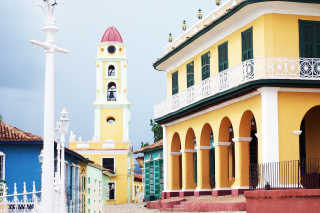 Trinidad is often described as an outdoor museum, mainly because of the cobbled colourful streets and rolling green hills.
36. Júzcar, Spain
Located in Andalucia, Júzcar is the official Smurfs village. The blue houses there will make you feel part of the fairy-tale realm.
37.Menton, France
The colourful gem of the French Riviera boasts of quaint alleys, bright facades overlooking sandy shores and a vibrant art scene.
38. Antelope Canyon, Arizona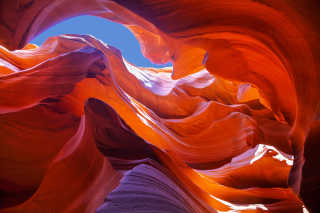 The Antelope Canyon is definitely on top of the list of places you need to see in the world. The light beams among the rocks create amazing photography opportunities.
39. Curaçao, Caribbean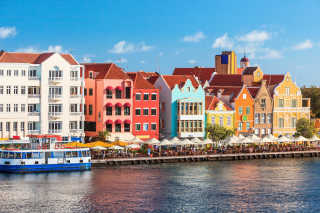 The tradition behind the colourful houses of Willemstad originates from when a former governor of the island mandated painting the buildings in any other colour except white, claiming that aggravated his severe headaches.
40. St. John's, Newfoundland
Picture yourself in this colourful destination, at the most eastern edge of North America.
41. Old San Juan, Puerto Rico
The oldest settlement in Puerto Rico has a surprise in store for you, apart from historical forts: colourful buildings along the cobblestone streets.
42. Zhangye Danxia Landform Geological Park, China
Zhangye's Danxia landscape has lots of precipitous red cliffs and rainbow ridges, ready to be admired.
43. Hitachi Seaside Park, Hitachinaka, Ibaraki, Japan
The park has a unique natural environment of sand dunes, forests, grasslands and springs, but what strikes your attention is the variety of colourful flowers.
44. Sagano Bamboo forest, Arashiyama, Japan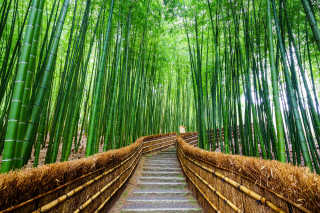 One of the most beautiful forests in the world, the Sagano Bamboo forest is definitely on the list of places you must see in your life.
45. Havasu falls, Grand Canyon, Arizona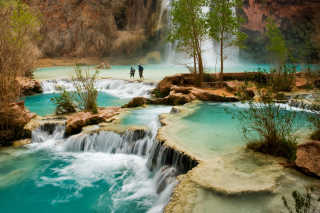 The Havasupai Waterfalls are the most dramatic waterfalls and their water is turquoise due to the being stored underground for as much as 30,000 years.
46. Rotorua springs, New Zealand
Rotorua is known for being a geothermal wonderland, with crystal-clear streams as well as colourful springs.
47. Lake Natron, Tanzania
One of the most serene lakes in Tanzania, Lake Natron is a hotspot for hundreds of flamingos, despite it's highly alkaline red waters.
48. Dubai Miracle Garden, Dubai
The world's largest natural flower garden is home to a colourful butterfly garden and sanctuary.
49. Jodhpur, India
The Blue City of Jodhpur offers a magnificent spectacle and an architectural masterpiece.
50. Rainbow Eucalyptus Groves, Mindanao, Philippines
The rainbow Eucalyptus can be found in one of Philippines islands, Mindanao and have a distinctive feature: the unique multi-hued bark.