Top Five Day Trips Near Bangkok
Top 5 Day Trips Near Bangkok
Bangkok is the world's most-visited city and with just a short ride out of town, you can visit these five places on our list which are the best day trip suggestions just outside of Bangkok. You can experience a island getaway, a floating market for a shopping experience of a lifetime and even a zoo and a theme park.
How to pick the right day trip for yourself?
Now that you've seen all that Bangkok has to offer, the next question you should be asking yourself is "What else is there to see outside of Bangkok and how do I choose the day trip that is right for me?" The answer as cliche as it may sound is: "It all depends on you!" Let's dig deeper into the question by looking at the personality of the traveller. The first and easiest classification is the type of traveller you are. Are you looking for adventure and thrills? Are you looking for an island getaway? Are you looking for more shopping? Are you looking for a quiet time?
With many day trips, this choice can be a very difficult one. But it shouldn't be. Budget Air has developed a simple guide to help you decide. We will help you pick the perfect day trip that is just right for you! You can choose a few to try if you have more time and money.
Before we dive deeper into which islands to visit, keep in mind these three important factors: weather and time for day trips.
The worst enemy of a perfect island getaway is rain. Plan your trip around the rainy seasons, so you don't end up having to stay indoors during your holiday and lose the deposit on the day-trip.
Next, while you're in Thailand, you'll be wanting to see as much as possible. You'll need to consider how much time you have and how much time you need to get around via buses as there will be traffic going to and from your day trip destination of choice.
Floating Market
We'll start off our guide with the most popular day trip choice departing from Bangkok. That is, of course, the wonderful experience of a floating market. The most famous one is known as, Damnoen Saduak Floating Market. Many tour agencies offer this as a half day tour and with the optional add-on to see the River Kwai and the famous bridge on the river.
The first reason for its popularity is its close proximity to Bangkok. Located around 100km from downtown Bangkok, it'll take you around an hour to get to the floating market, if you leave before peak traffic hits the streets. This is a unique experience to see how locals buy their groceries outside Bangkok, where the number of mega-malls are few and far between. You'll need to set your alarm to get up early so you have more time to shop while you're there.
The Damnoen Saduak Floating Market is the most touristy one, and also the most convenient. You'll get to see boats selling food and fresh fruits and it's a colorful scene to behold and a perfect spot for photography of local living. The floating market is bustling and lively which makes it a wonderful experience for all.
Another popular choice is Amphawa Floating Market, which is located south of Bangkok, around an hour's drive away. Here, you'll find less tourists and more locals. Many wooden houses line the canals so you'll be able to shop along the board walk.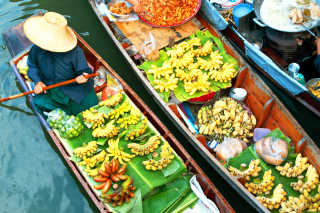 Island Getaway
The most popular island for city dwellers looking a getaway is Koh Samet, located a 2 hour drive away from Bangkok, followed by a half-hour ferry ride to the other side. Since it's close to Bangkok, you can expect to be joined on the island by many locals and expats from Bangkok.
If you wish to extend your daytrip, you can pick from popular resorts like Bar and Bed Resort Koh Samet Bar and Bed if you wish to live in luxury or even choose from beachfront cottages on the noisier side of the island, Saikeaw beach. Koh Samet is also a good place to snorkel, hike, trek or even take lots of nature photographs. You'll be able to chill on its white sand beaches and party with the locals at its many bars, restaurants and even watch fire shows.
Another popular pick is Koh Lan, which is on the other side of Pattaya. Koh Lan is much quieter than its more famous adjacent resort and much less naughty. Here you'll find unspoiled beaches and get to enjoy more peace and tranquility. You can also visit a Buddhist shrine to pray for a smooth trip.
Waterfall
If you're in search of waterfalls, look no further than Erawan Waterfalls Erawan Waterfalls. Erawan is located in Kanchanaburi Province and is a longer drive than the earlier day-trips. However, we assure you that its worth the trip to get there. Its Thailand's 12th National Park and one of the most famous. You'll see emerald green ponds and seven levels of waterfalls, some of which you'll be able to swim and play in to cool off from the hike. Stick to the paths that have been designed for a safe hiking experience. Food is not allowed in the park after the second tier of the waterfall. If you wish to swim, it's best to rent a lifejacket so you can relax when you reach the top tier. The hike up the waterfall allows many spots for great photos of nature at its finest.
Zoos
If you love animals, then you need to visit Hua Hin Zoo and Animal Park. This is a little known park, and does not entertain many tourists. It was founded as a deer research center and features the lovely docile creatures. You'll find many large deer enclosures and many free roaming birds as well and gibbons too. There are no shops in the park, so bring your own food if you want to have a picnic. There are some bears and reptiles in the zoo so you will be spoilt for choice for nice photographs of the animals. If you prefer taking photographs with Tigers, then head up to thec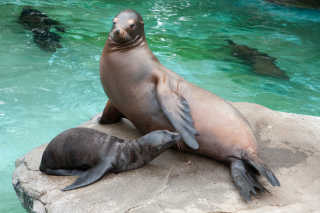 Theme Parks
If you love water parks, then head over to Cartoon's Network Amazone Waterpark in Pattaya Cartoon Network Amazone Waterpark. Its a spectacular and one of the biggest theme parks in Asia. You'll find state of the art water rides and slides and sure to keep you entertained all day long. Located only 20 minutes from Pattaya Beach, there are featured characters from all your favorite Cartoon Network shows and you'll get to take photos with the mascots there. There's also a capsule ride to get your heart pumping and a food court with many local and international delights to keep you nice and satisfied.
Apart from the evolving beach and food scene, Thailand has much more to offer. Find your cheapest flight or read more about the city on Budgetair.com.au.