Top Five Sakura Spots In Japan
Top 5 Sakura Spots in Japan
Japan has many natural wonders like Mount Fuji, Mount Asahi, Mount Yoshino, the Shiraito Falls and the Kerama Islands and these in itself attract millions of tourists every year. One of the absolute best times in the year to visit Japan is during Cherry Blossom Season. The colors of pale pink are everywhere and the air is fresh and wonderful. The Sakura is considered to be one of the key emblems and icons of Japan and has been depicted by many famous paintings and photographs of this wonderful natural phenomenon.
The actual time of the full bloom of the cherry blossom varies from city to city and from year to year as well, however, the Spring season is when most of it happens. We've prepared a guide of the Top 5 Places in Japan for you to view this natural beauty in person.
How to pick the right Sakura Spot for yourself?
If it's your first time travelling to Japan, you'll likely be asking yourself: Which city should I visit? Which Sakura Spot is best for me? The answer as cliche as it may sound is: "It all depends on you!" Three key factors to consider here are: the duration of your trip, the budget of your trip and the month you'll be visiting Japan.
The duration of your trip will decide if you just choose one spot, or a few or all 5 in our list. Generally if you have a couple of days, just pick the one that resonates with you best. If you have more time on your hands then you can explore other options that are near your first spot. And if you have a few weeks in Japan, then we'd recommend you go see all of them.
As for the budget of your trip, if you wish to keep this rather low, it's best to choose a spot with a direct flight from your home airport. Traveling on domestic flights in Japan or on the high speed rails can be expensive if you're on a budget trip.
And lastly, depending on the month you'll be visiting Japan, we've searched out the dates for the best viewing of Sakura, so choose the spot with the matching Sakura season, as the full blooming season varies from region to region in Japan, so pick one where your dates overlap as much as possible to avoid disappointment.
1. Tokyo, Japan - March 29 to April 4
Most visitors to Tokyo choose to begin their trip to Japan in the capital city of Tokyo. Tokyo is the most accessible city in Japan with many international direct flights connecting Japan and Australia. Also since Japan does not require a visa for Australian tourists staying up to 90 days, Tokyo is a great first stop in the Land of the Rising Sun. Many may think that since Tokyo is so highly advanced and cosmopolitan that it seems strange to be on the list for nature lovers, however, there are actually many parks and gardens where you can view the cherry blossom. These include Ueno Park, Yoyogi Park and Shinjuku Gyoen National Garden. Apart from Sakura viewing, there's so much to do in Tokyo. For the young and the young at heart, don't miss out on Tokyo Disneyland and Tokyo Disneysea. And for those who want an epic view of the city, visit either the Tokyo Skytree or the Tokyo Tower. For sushi-lovers, you have to make a stop at Tsukiji Fish Market to try the freshest sushi at affordable prices.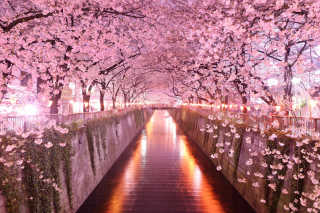 2. Fukuoka, Japan - April 1 to April 7
If you love festivals and traditions, then Fukuoka is the city to go to view Sakura. The city's Maizuru Park hosts an annual cherry blossom festival, where sakura trees are beautifully lit at night and food stalls are set up in the park bringing tourists and local together in this wonderful celebration. Officially known as the Fukuoka Castle Sakura Festival, it's a fantastic opportunity for history buffs to bask in the festivity with a special illumination of the historic sites in the area. Besides the festival, there's lots to do in Fukuoka, like visiting the Kushida Shrine, shopping at Canal City Hakata and going to the observation deck of Fukuoka Tower for amazing views of the city, just to name a few. We're sure you'll have a great time here!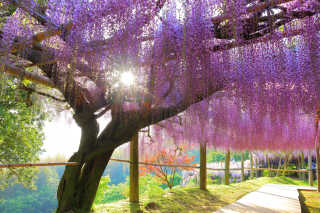 3. Kyoto, Japan - April 5 to April 11
Kyoto is typically known for its epic temples, religious shrines and imperial palaces. However, it is also popular for its large gardens such as Maruyama-koen Park, a popular Sakura viewing spot, with its centerpiece being a 70 year old massive Cherry Blossom Tree right in the middle of the park. Another fantastic spot to view Sakura is known as The Philosopher's Walk, a canal walkway flanked by younger cherry blossom trees, creating a lovely pinkish setting for couples. Other than viewing Cherry Blossom, you have to check out other key sights in Kyoto, like Kiyomizu-dera, Nijo Castle and Fushimi Inari-taisha.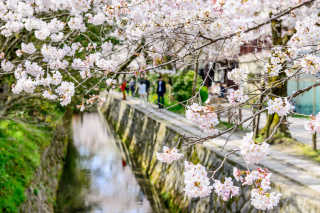 4. Osaka, Japan - April 5 to April 11
Osaka is known to many as a foodie paradise, with its bustling gastronomic scene and great variety of restaurants and street food offerings. For sushi lovers, the top spots include Tokisushi and Harukoma Sushi and Endo Sushi, located in the Osaka Fish Market. For ramen lovers, you have to check out Ramen Yashichi and Hakata Ippudo Ramen. However, Osaka also makes a great city to be in during Sakura season as there are many popular viewing points, including the Osaka Mint Bureau (made famous by the Sakura tunnel walk through) and the Osaka Castle Park (as seen in many photographs). Do also check out Kema Sakuranomiya Park, which is a wonderful riverside spot to view more than 5,000 cherry blossom trees along the Okawa River, as well as the Expo 70 Commemorative Park, where you'll find a wide expanse of trees, many picnic spots and also a craft market during Sakura season to get souvenirs for back home.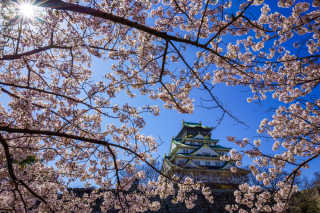 5. Nara, Japan - April 6 to April 12
Nara is a lovely city rich in culture and tradition and is also a nature lover's paradise. The numerous parks, gardens, palaces and shrines all throughout the city set the most beautiful backdrop for the Cherry Blossom season. The real star of the show here however is Mt Yoshino, which is a 90 minute drive away from the city, and this is the most famous Sakura viewing spot in all of Japan. The mountain is covered in at least 30,000 cherry blossom trees of different varieties so you'll see many different shades of pink covering the hills and you'll find many nice spots for a springtime picnic or hanami as they call it in Japan. Another one of Nara's main attractions is Nara Park, where you'll get up close and personal with the famous Nara Park deers. For those traveling with kids, don't miss the chance to visit Nara Health Land, a wonderful facility with many hot springs and a giant open pool for kids to swim. There's also a giant amusement park at the top of Mount Ikoma for the young and the young at heart.