What Is The Daily Cost Of Travel In Singapore
Daily Cost of Travel in Singapore
Singapore is one of the most popular Asian cities for Australian tourists, but in recent years, many report have indicated that it's getting more and more expensive to visit due to the rising cost of living. However, with careful planning and research before your trip, we're sure that you'll still be able to get a budget friendly trip within your means and expectations.
To help you in planning your travel budget for your next trip to Singapore, BudgetAir has done the hard work and research to compile a list of things you should consider as part of your daily cost of travel in Singapore. The costs include dining at a local hawker centre to drinking at a cocktail bar, to taking public transportation and taxis, and cost of entry to famous attractions.
1. Cost of Food in Singapore
The cost of dining out in Singapore varies greatly depending on many factors such as the venue itself, the type of establishment you're eating at, what you order and of course how much you order.
The most cost effective places to eat in Singapore are the many hawker centres in the city. The most famous one to dine at is Maxwell Hawker Centre. Open since 1986 after renovations from the previous Kim Hua Market, Maxwell Hawker Centre serves many local delicacies to locals and tourists alike. Getting there is simple, take an MRT to Chinatown Station, take Exit A and within 5 to 10 minutes, you'll arrive at this food paradise. Despite its global acclaim from many food critics and celebrity chefs, food prices here have remained very affordable by Singaporean standards. When you get there, the most famous stall is Tian Tian Hainanese Chicken Rice, which serves juicy tender chicken, on top of a plate of piping hot rice, and complemented by thick soya sauce, chilli and ginger on the side. An average portion of Chicken Rice will cost you 3.50 SGD to try this renowned dish. Due to its popularity, there is always a long queue so be prepared to wait for 20 to 30 minutes in line. Trust us, it's well worth the wait. Alternatively, if you don't want to wait, you can try a bowl of noodles at one of the nearby stalls which will cost you around $3..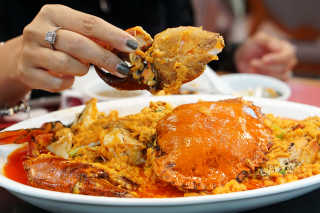 Another must-try in Singapore are its seafood restaurants. While these are typically more expensive meals, you should try a seafood meal at least once during your trip. The most famous is Jumbo Seafood Restaurant, with its claim to fame being its Chilli Crab. For a meal for two people here, expect to pay between $100 to $200 for Chilli Crab and some other side dishes. For a more affordable option, check out Hua Yu Wee along Upper East Coast Road, a family owned seafood restaurant which is famous for its Black Pepper Crab. A meal here tends to costs around $30 - $50 per person. The best budget saving tip for eating seafood in Singapore is to go there in a bigger group of 7 or 8 people so you can order different dishes and share a hearty meal.
Other dining options that are popular in Singapore include dining at one of the regular restaurants in a shopping mall, which would cost between $15 - $30 per person for Chinese, Malay or Indian cuisines. Western meals like Steak or Specialty Burgers tend to cost more due to the rising costs of imported meats. Most restaurants display their menus in front of the shop so be sure to take a look and be certain that it's good value for you before going in.
In recent years, coffee shops and specialty cafes have sprung up all over Singapore offering award-winning lattes and cappuccinos for $4 to $6 , and all day breakfast platters starting from $15 to $20 . Our recommended areas to check out are Haji Lane and the Arab Street Area, Tiong Bahru and Boon Tat Street, where you'll find a few of these cafes close to one another. Popular cafes include Jimmy Monkey, Symmetry, Hangar and Forty Hands, just to name a few to look out for.
2. Cost of Drinks in Singapore
Alcoholic drinks in Singapore are rather expensive due to the high tax on alcohol and the high cost of securing a liquor license to run a bar or pub. However, this has not dampened the growth of the bar scene in Singapore, with more specialty cocktail bars, and craft beer pubs opening to serve locals and tourists alike. There are also convenience stores and bottle shops that sell beer and other liquors for cheaper prices than bars, if you prefer to take the bottles back to your hotel room to drink.
One top tip for tourists is to purchase duty free alcohol upon your arrival into Singapore at Changi Airport, as these bottles are sold for much cheaper than what you'll pay in the rest of the city. You can get a one liter bottle of Johnnie Walker Black Label for under $50 in the duty free arrival shop. You can also get a bottle of premium single malt whisky like Ardberg 10 or Glenlivet for under $100. By bringing them back to your hotel to enjoy, you'll save quite a lot of money in the process.
If you prefer to head out to drink in Singapore, a bottle of beer at a bar will cost you between $12 to $20 on average. Drinking Tiger Beer (the locally produced beer) at a coffee shop will bring that cost down to around $$7 to $10. And, buying that same beer at a local supermarket like NTUC FairPrice brings it down further to $5 or $6 on average.
As mentioned earlier, cocktail bars are all the rage in Singapore now, with many of its bartenders being rates among the world's best. Regular cocktails typically range from $15 to $20 , while specialty cocktails typically range from $$20 to $30 . The famous Singapore Sling Cocktail at the historic Raffles Hotel (where the drink was first made) will cost you $31. Wine can be rather expensive in a restaurant, but if you wish to save money on drinks, head over to Wine Connection at Robertson Quay which serves bottles of wine starting at $30 . They also serve up tapas and side at $5 to $10 per plate.
3. Cost of Transportation in Singapore
Singapore is known to have one of the most successful public transportation systems in the world. If you'll be using the MRT and Bus system to get around, it's best to purchase a EZ-link card for $12 ($5 activation charge and 7 SGD stored value). You can top this card up if you're running low at any MRT station. Another great option if you don't want to worry about running low is to purchase the $20 3 day unlimited pass (an additional $10 is required as deposit, but will be refunded when you return the card within 6 days of purchase). A typical ride on the MRT costs between $1 to $2 , while an average bus ride in Singapore costs around $1 .
Alternatively, you may wish to get around using taxis, if you don't like crowds. Good news is that all regular taxis are required by law to go according to the fare on the meter. Typical journeys will cost between $15 to $20 and you can ask for a receipt to be printed out as well. There are some places like the Central Business District or Changi Airport where there are surcharges for taxis picking up passengers and some routes will incur toll charges as well and these extra charges will be reflected in the receipt as well.
4. Cost of Attractions in Singapore
There's a whole host of popular attractions in Singapore for tourists to visit, but we'll feature the most popular ones. One of the most well acclaimed attractions in recent years is the Gardens by the Bay, which is a must-visit, especially for first timers to Singapore. Entry to the two conservatories (or domes) at Gardens by the Bay costs $28 per adult and $15 per child, while entry to the Supertrees Grove is free of charge. Be sure to catch the free light show there at 7:45pm and 8:45pm daily. A trip on the Singapore Flyer, to see an unparalleled view of the city skyline will cost you $33 per adult and $21 per child. This is a great ride to get awesome photos to bring home to show your friends. Another popular attraction is Universal Studios Singapore, located on Sentosa Island, which promises a great day of fun, especially if you're travelling with children. Ticket prices are $76 for Adults and $56 for Children.
Disclaimer: Please note that prices are approximate and may change since the time of publishing this article and you are advised to check the prices again before you book your trip. P