What Is The Daily Cost Of Travel In Thailand
Daily Cost of Travel in Thailand
Thailand is one of the world's top spots for tourists and there are so many reasons for its great success as a tourist wonderland. For starters, the country has a wide variety of attractions for every type of traveler, from beach-lovers to city dwellers to foodies to shopaholics. Thailand has a long history of art, culture and religion and many tourists come to be a part of that for a while too. And importantly for the budget traveller, Thailand is an inexpensive country to visit. If you're careful in planning your trip, you'll get a value for money vacation every time you go there.
To help you in planning your travel budget for your next trip to Thailand, BudgetAir has done the hard work and research to compile a list of things you should consider as part of your daily cost of travel in Thailand. From food and drinks, to transportation and entertainment, to some shopping expenses that you'll spend along the way as well. We've written the guide based on the top 3 main cities that tourists usually visit, Bangkok, Chiang Mai and Phuket.
1. Bangkok, Thailand
Most first time travellers to Thailand will come here as their first stop. Bangkok is the Thai capital city and one of the most visited cities by tourists year after year. It's famous for so many things, like a lively street food culture, raving party scene and historic landmarks which hold strong cultural significance to the country. On top of all these factors, Bangkok is one of the best spots for budget travellers. Most backpackers choose to stay in the lively Khaosan road area as it's close to many of the cities must-see landmarks and there is a wide variety of budget accommodation options to choose from here.
An average cost for a simple meal, like Pad Thai or Ba Mee (egg noodles) or fried rice will usually cost you under 100 Baht if you buy it from a street-side stall. An average cost for a meal at a local cafe tends to range from 150 Baht to 200 Baht. A local Thai beer like Singha or Chang from 7-11 (convenience store) will usually cost you under 50 Baht and the same beer will cost you around 100 Baht if you have it at a local bar or backpacker pub. Taxis are relatively inexpensive as well, costing between 100 to 400 Baht depending on the distance on the meter. Always choose a taxi that will go according to the price on the meter to avoid being ripped off. Check that the driver knows the destination and is willing to charge you by the metered fare before you get in.
Another great thing about Bangkok is the skytrain system, known as the BTS, which connects many of the main shopping malls in the downtown area. You can get an unlimited one-day pass for 140 Baht or you can buy a single journey ticket, which you purchase as you go from station to station, with each trip typically ranging from 20 to 44 Baht. A top tip for travellers is to pick a hotel near a BTS station, so it's convenient to go around and explore the city. A simple t-shirt can range from 200 to 500 Baht, depending on the brand and style of the shirt and the shop that you purchase it from.
As for the key landmarks, entry to the Grand Palace costs 500 Baht, and admission to nearby Wat Po costs 100 Baht. You are advised to buy the entry tickets directly from the official counters. If you're staying downtown, you can take the BTS to Saphan Taksin Pier and then take the Chao Praya River Boat to Tha Chang Pier. The cost of the boat ride depends on the type of boat you take (identifiable by flag color and differing by the number of stops along the way) but is typically around 20 Baht.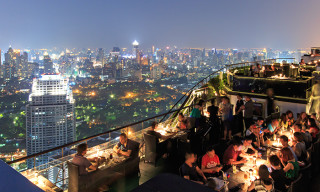 2. Chiang Mai, Thailand
Chiang Mai is another popular city for tourists, located in the North of Thailand. Tourists usually visit to see the historic sights like Wat Phra That Doi Suthep, Wat Chedi Luang and Wat Phra Singh. There is a rich culture and tradition here and you'll be spoilt for choice choosing which attraction or landmark to visit. The old-world charm and cooler weather here will make you fall in love with the city.
An average meal here will cost you around 50 to 80 Baht along the street for a bowl of noodles or a plate of rice, and 150 to 200 Baht at a simple cafe for a meal and a drink. While you're in Chiangmai, do try one of the many specialty coffee shops, like Ristr8to, where you can get a cup of its award-winning lattes for around 100 Baht. Local beer in Chiangmai typically costs around 50 Baht at a supermarket or 7-11, and around 100 Baht at a local pub. Meanwhile, buying a t-shirt or a simple bag at a local night market usually costs 100 Baht.
Taxis typically cost 60 - 200 Baht if you're traveling within the city limits and if the driver agrees to go according to the price on the meter. You can also choose to travel around on tuk-tuk if you're not going too far, just be sure to agree on a price that you're comfortable paying before you get on. Or if you don't mind sharing your ride with other, take a Songteaw for around 20 Baht per trip. For longer day-trips out of the city, you are encouraged to hire a driver for the day, which usually costs around 1000-1500 Baht.
Entry to Doi Suthep National Park costs 200 Baht for adults and 100 Baht for children, with some attractions within the park costing an extra 30 to 50 Baht for entry. Entry to Wat Chedi Luang is free but donations are recommended to help with the maintenance of the temple. Entry to Wat Phra Singh is 20 Baht.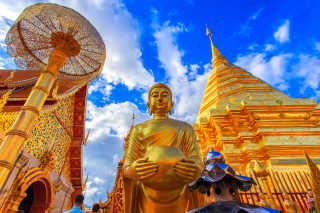 3. Phuket, Thailand
Phuket is one of the most visited beach cities in all of Asia. It is home to many luxury resorts, backpacker inns and boutique hotels, offering accomodation options for every budget. You can expect that prices here for daily expenses will be marginally higher than Bangkok or Chiang Mai, but it's still considered affordable by most standards. The most famous areas to visit in Phuket is Patong Beach and Karon Beach. Old Phuket Town is a great venue to check out if you wish to experience more of local living and explore markets, bakeries, eateries and cafes as well.
A simple meal in Phuket at a local street-side stall typically costs 80 - 150 Baht, while a meal in a cafe or McDonalds usually costs between 200 - 250 Baht. Local beer like Singha or Chang would usually cost you 50 Baht at a convenience stall and between 150 Baht at a beachside cafe and up to 250 Baht at a club. Cocktails can cost between 300 to 400 Baht at clubs as well.
A seafood dinner could typically cost you between 500 to 1000 baht per person, depending on the type of seafood you order and the weight of the seafood. Be sure to check the price on the menu before you order or to define the weight of the fish that you want beforehand. Souvenirs can tend to be overpriced in Phuket so be prepared to bargain if you wish to get a good deal. You can get a t-shirt for 200 to 300 baht if you're good at bargaining.
Taxis in Phuket tend to be rather expensive compared to other cities in Thailand and usually range from 300 - 700 Baht, depending on how far you're going. A tuk-tuk ride typically costs 300 Baht but be sure to confirm the price with the driver before you get on. Meanwhile, a ride on a shared Songteaw will cost around 80 to 100 Baht. Many tourists choose to rent motorcycles or scooters instead, as this can be an inexpensive way to get around, with rentals around 400 Baht per day.
Another main cost that you'll spend in Phuket is for island hopping. Long-tail boats tend to cost around 1500 Baht to go from Chalong Pier to Coral Island. Speedboats are a faster option and these can go much further as well, you can get a day-trip to Koh Phi Phi for around 3000 Baht. Public ferries are usually a cheaper but more crowded option, with tickets ranging from 350 to 500 Baht per one-way trip.