Best Inflight Entertainment
World's Best Airlines Inflight Entertainment
Airlines with the best inflight entertainment attract more customers and stay on top when it comes to customer reviews. Long flights can be boring and once you've read a few chapters of your thriller or romance novel, listened to music on your headphones or chatted with the passenger alongside you, it's natural to delve into the inflight entertainment. Watching a film uninterrupted can be some traveller's favourite part of flying. Here is a list of airlines that score top marks when it comes to satisfying their customers:
Emirates
For fifteen years in a row, Emirates has scored top marks when it comes to keeping their customers entertained in the air. From the range of films to the best new releases, TV, in-flight music and games offerings to through to Wi-Fi availability and more, Emirates delivers and excellent experience on long-haul and domestic flights. Thousands of movie and music options are available and the inflight service, includes WiFi and seatback displays. This makes the experience relaxed and entertaining all the way to your destination.
Qatar Airways
Qatar Airways offers its customers the flexibility of sending and receiving SMS or MMS messages while in the air. You can check and reply to e-mail, or browse the internet using a smartphone or laptop thanks to the OnAir GSM/WiFi service. The choice of thousands of movie and TV options as well as in-air music choices makes this a very satisfying experience for passengers. You can even view and plan entertainment options online before their flight.
Delta Air Lines
The Delta Air Lines Studio audio/visual system is available on international and most domestic flights - depending on your destination. The system offers around 300 movies to watch. Customers need to download the free GoGo app before boarding, to access the WiFi, inflight movie and music options. A selection of kid-friendly films are also available.
Virgin Atlantic
World class movies, TV programmes, children's movie collections and a wide range of music makes the onboard entertainment offered by Virgin Atlantic one of the best in the air. A selection of games for all ages keeps enthusiasts occupied during long, international flights. Staff turn on the AVOD (audio visual) system from before take-off right until you exit the plane. This is the audio/video on demand system called VERA On Demand. WiFi is also available throughout the flight.
Qantas Airways
Passengers have more than 1000 hours of entertainment at their fingertips when they fly with Qantas Airways including box sets of the best TV shows, movies, kids entertainment and more on domestic and international flights. To access the inflight entertainment passengers need to download the Qantas app before takeoff. Sit back and relax to the soothing sounds of classical music, or listen to your favourite rock selection while you jet to your next holiday or business destination.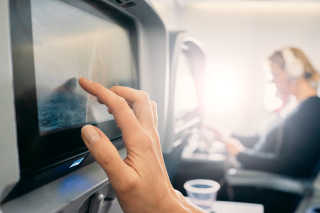 United Airlines
United Airlines offer films and music streamed to your device while in the air. The United Private Screening site displays available options. Seatback entertainment systems display movies for your pleasure and free earbuds are available for audio on selected flights. WiFi is available on all United Airlines aircraft and two cabin United Express flights, domestic and long-haul.
Lufthansa
Lufthansa offers a great selection of kids and adult movies, a wide range of musical genres, games and WiFi. You can stream entertainment to your device and there are excellent seatback displays on international flights. This ensures a pleasant viewing and listening experience. Make sure to browse the online website before you leave so you can choose the best options for the family and especially any children you may have with you.
Book early to make sure you get the best deals on seats. Find out about downloadable apps that you may need to have before accessing inflight entertainment. Make sure you know which devices can stream and if there are any seatback options available. Go online and view the available movies, music and games for yourself and any children you may have with you. This ensures that everybody is relaxed and knows what they want to watch or listen to before you takeoff. Find out whether there are any premium options available. Book your next flight with BudgetAir Australia for the best inflight entertainment options.
---
Want to know more about airlines?