How Much To Bring To Indonesia
How Much to Bring to Indonesia
Indonesia is one of the most popular counties for Australian tourists to visit and there are many factors that contribute to the success of its tourism industry. First off, Indonesia has a lot to offer to different types of travelers, from beach-goers to culture vultures to street food hunters. On top of this, Indonesia is well known to be a budget friendly place to visit.
To help you with the planning of your budget for your upcoming trip to Indonesia, BudgetAir has conducted our research to put together a list of things to take into consideration as part of your daily travel expenses in Indonesia. From eating out and having a beer, to taxis and attractions, our comprehensive guide covers the daily budget to exploring the three main cities that Australian usually travel to: Bali, Jakarta and Yogyakarta.
1. Bali, Indonesia
The first stop of many Australian travellers' trips to Indonesia is Bali. It's no wonder then that Australians make up the bulk of tourists visiting this beach destination. In fact, many travelers like it so much, they come back every year for some fun in the sun. Bali is famous for so many reasons, like the many beaches on offer, the cultural and religious landmarks and icons, and its chill lifestyle. On top of all these factors, Bali is also a great spot for budget travellers.
A simple meal in Bali like a plate of rice with pork or a bowl of fried noodles will typically cost you 30,000 Rp to 50,000 Rp (if you include a simple drink like Coke or Sprite). This is the price if you dine at a local restaurant or local cafe. A fancier meal at a mid tier restaurant or a specialty cafe would typically cost 100,000 Rp to 200,000 Rp. Many tourists prefer to dine at mid tier restaurants or specialty cafes as they usually offer better service, better setting and more variety. On the higher end, a meal at a luxury hotel restaurant usually costs 200,000 Rp to 500,000 Rp.
The most common beer in Bali is the local favorite Bintang beer. The price of this beer can range from 20,000 Rp at a convenience store or street stand to 45,000 Rp at a beachside cafe to 100,000 Rp at a club. Wine, cocktails and hard liquor tend to be more expensive than beer due to the high alcohol tax based on the strength of alcohol. For example a bottle of Jack Daniels would cost around 800,000 Rp and imported wine would cost around 300,000 Rp.
Since there's no public transport in Bali, the common way of getting around is flagging down a taxi. If the taxi agrees to go by the metered fare, then the cost of the trip will usually be between 30,000 to 90,000 Rp (if you're not going too far). Look out for the BlueBird or BaliBird taxis as these usually go by the meter. Be careful of taxi drivers who refuse to use the meter.
Alternatively, many travellers to Bali like to rent motorcycles or scooters so they have the freedom and flexibility of traveling around the island on their own and it's relatively inexpensive to do so at only 50,000 to 150,000 Rp per day. Be sure to always wear a helmet and ride safely.
There are so many attractions and temples to see in Bali, but we'll focus on the key ones. Tanah Lot Temple is one of the main cultural and religious icons of Bali and is a definite must-visit. It's one of the best places to get a sunset photograph in Bali and entry to this temple costs 60,000 Rp for adults and 30,000 Rp for children. Another fantastic temple to visit is Uluwatu Temple, which is located on top of a steep cliff, allowing you to get panoramic views of the sea and the coastline. Entry to Uluwatu Temple is 30,000 Rp per adult and 20,000 Rp per child. Be careful of the monkeys while you're here as they are known to snatch loose hanging belongings.
Search and compare flight to Bali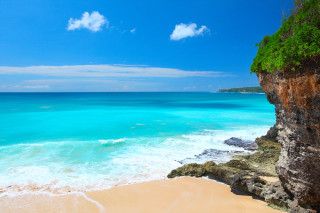 2. Jakarta, Indonesia
Jakarta is the capital city of Indonesia and home to one of the busiest international airports in Asia, Soekarno-Hatta International Airport. Jakarta is a vibrant and cosmopolitan megapolis and offers travelers the chance to partake in a melting pot of culture, cuisine, tradition and heritage.
A average meal at a street-side stall will cost around 20,000 Rp to 30,000 Rp for plate of rice or a bowl of noodles in Jakarta. Dining at an simple restaurant or a local cafe will cost around 50,000 Rp to 100,000 Rp for a couple of meat and vegetable dishes and rice and a drink. If you're eating at casual eatery at a popular shopping mall in the heart of downtown, be prepared to spend 150,000 Rp to 200,000 Rp, while a meal at a mid-tier restaurant would tend to average between 300,000 Rp to 400,000 Rp.
Beer is inexpensive in Jakarta, and usually ranges from 35,000 Rp to 50,000 Rp at a regular bar to 150,000 Rp at a hotel bar or nightclub. You can also get a six-pack of Bintang beer at a supermarket for around 120,000 Rp.
Most tourists prefer to get around using taxis in Jakarta since they are inexpensive and metered taxis (look out for Blue Bird Taxis) are easy to be found. An average ride costs between 50,000 Rp to 150,000 Rp, depending on how far you're going and how long you're stuck in traffic.
The key attraction in Jakarta is MONAS (National Monument) which is the icon for the city and the nation. This monument was built to commemorate Indonesia's Independence and is a must-visit for tourists. It is 137 metres tall, with an observation deck at the top and is a great place to see the city at night or in the day. At the bottom of the tower is the Indonesian National History Museum, which educates visitors on the key events in Indonesia's past. The entry to the museum costs around 25,000 Rp and the ticket to the observation deck costs around 100,000 Rp.
Search and compare flight to Jakarta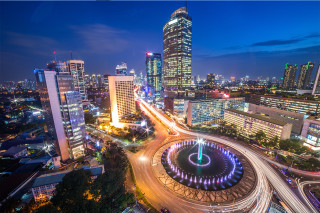 3. Yogyakarta, Indonesia
Yogyakarta is another popular spot for tourists in Indonesia, especially those seeking to learn more about culture, tradition and heritage. The key attractions in Yogyakarta are the famous temples, Borobudur and Prambanan as they are both UNESCO World Heritage Sites.
The best time to visit Borobudur is during sunrise and you'll be able to go right to the very top of the temple one hour before sunrise to pick your spot in the darkness and wait for the sun to rise. It's one of the most magical sunrises you'll ever experience in your life and is truly not to be missed. This experience is known as the Borobudur Sunrise via Hotel Manohara Borobudur will cost you 450,000 Rp at the official ticketing booth at the Hotel. You should arrive before 4:30 am to purchase your tickets before the gates open. The ticket price also includes a coffee or tea and a snack after you have watched the sunrise and walk back down to the hotel and a small souvenir when you return the torchlight you've been given to climb up before the sun rises.
Another very important temple is Prambanan, which is the largest Hindu temple complex in all of Indonesia. Entry to the temple might be considered expensive at around 25 USD, but you'll be sure to spend hours here admiring the wonderful architecture of ancient times. This is a great place to watch sunset as well.
Taxis are relatively inexpensive and usually cost between 10,000 Rp to 50,000 Rp. If you're traveling outside the city like to the temples, it's best to contact a taxi driver who can speak English and you can agree on a price to bring you to Borobudur or Prambanan. The estimated cost would be around 150,000 Rp from your hotel to the temple (one-way). Or if you prefer for your driver to wait for you, then negotiate with him an additional cost of 150,000 Rp to 200,000 Rp to take you back to your hotel after you have finished seeing the temples.
A simple meal at one of the street stalls will cost 15,000 to 20,000 Rp for a plate of rice or noodles. Dining at a local cafe would cost you around 25,000 Rp to 40,000 Rp for a simple meal. You'll find food prices here to be marginally lower than what you would expect in Bali or Jakarta. A beer in Yogyakarta would typically cost around 30,000 to 40,000 Rp. Some areas in Yogyakarta do not sell alcohol so it's best to check with your desired hotel if it's alcohol friendly before you book.
Search and compare flight to Yogyakarta